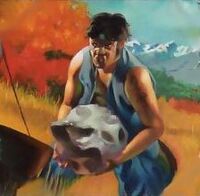 Kaiu Hosaru was a bushi and engineer of the Crab Clan.
Rebuilding the Wall
Edit
Hosaru was part of the many engineers who worked to rebuild the Kaiu Wall around the lost Kaiu Towers after the Carpenter Wall Falls in 1159. Hosaru often performed menial labor alongside his peasant workers. He believed he could not ensure a job was done correctly unless he participated. [1]
Hosaru was appointed as sensei for the Kaiu Engineer School in the Daishiki's Anvil Dojo. [2]
External Links
Edit
References
Ad blocker interference detected!
Wikia is a free-to-use site that makes money from advertising. We have a modified experience for viewers using ad blockers

Wikia is not accessible if you've made further modifications. Remove the custom ad blocker rule(s) and the page will load as expected.