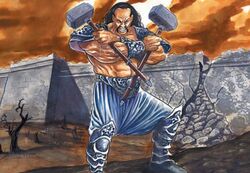 Kaiu Hisayuki was a Crab Clan bushi who was stationed at the Tower of Fear. [1]
Vacant Throne
Edit
In 1169 he was stationed at the Kaiu Wall while the Imperial Throne was empty. Hisayuki believed that the Empire would be better off if the Crab ran things. [2]
Test of the Emerald Champion - 1169
Edit
Hida Shara was angry when she knew that Hiruma Todori declined the opportunity to participate in the Test of the Emerald Champion this year. He offered his invitation to the Kaiu family, who selected Kaiu Hisayuki. The arrogant Hida Daizu was another Crab contender. [3]
Third Yasuki War
Edit
In 1169 the Crab Clan invaded the lands of the Yasuki family during their conflict with the Crane Clan. Hisayuki was one of many samurai who could not participate in the war, being needed to stand watch on the Carpenter Wall. He expressed his displeasure with being unable to serve his clan by fighting alongside the rest of the Crab, but Hida Hiyao reminded him that protecting Rokugan from the Shadowlands was far more important then a battle over mere territory. [4]
External Links
Edit
References
Ad blocker interference detected!
Wikia is a free-to-use site that makes money from advertising. We have a modified experience for viewers using ad blockers

Wikia is not accessible if you've made further modifications. Remove the custom ad blocker rule(s) and the page will load as expected.