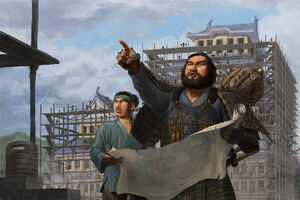 Kaiu Gorobei was a bushi Siege Master of the Crab Clan.
Colonies
Edit
Gorobei worked in the reconstruction of the Second City from the destruction happened during the Siege of the Second City. [1]
A Matter of Honor
Edit
In 1199 a Crab army marched against the Lion to resolve a matter of honor, which involved a slight against his Clan's honor for the appearance of an oni of the Shadowlands, Minikui no Oni, within the Lion lands. Gorobei advised his lord how to deal with the enemy. [2]
External Links
Edit
References