Kaiu Esumi 
 
Born:
Unknown 
Died:
- 
Parents:
Yasuki mother
People
Kaiu Esumi was a bushi, Siege Master, and Tactician of the Crab Clan. He was considered a cruel man. [1]
Demeanor
Edit
Esumi's mother was a Yasuki before her marriage, and Esumi became a materialistic in the extreme. His wrathful nature with the imprisoned mujina he supervised was terrible. [2]
Colonies
Edit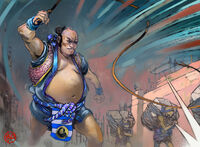 Esumi was sent to the Colonies, where he was appointed as taskmaster of peasants who worked the regions claimed by the Crab. The crops harvested there measured their lifespan in far shorter terms than any other land Esumi had ever encountered. The plants there also aged at an incredible rate [3] in this area, which was known as the Magnificent Farmlands of the Fuzake. [4]
Elephants
Edit
In 1198 he used the elephant Chiisai to fulfill some obligation his clan had to the Phoenix Clan, under the orders of Asako Rinshi. The creature found an item that Esumi kept for further study of the Kuni, a crystal [5] scroll. [6]
Taking Hostages
Edit
For an unknown reason Esumi had a conflict with a Phoenix priestess, Isawa Shunsuko. They eventually ended relatively amicably and Esumi spared him. [7] In 1199 Esumi was detained by Yoritomo Akuhiko by unknown reason. [8]
External Links
Edit
References
Ad blocker interference detected!
Wikia is a free-to-use site that makes money from advertising. We have a modified experience for viewers using ad blockers

Wikia is not accessible if you've made further modifications. Remove the custom ad blocker rule(s) and the page will load as expected.