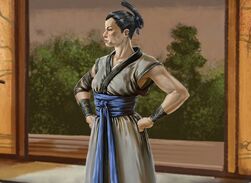 Kaiu Akemi was a courtier, sumai wrestler and diplomat of the Crab Clan.
Imperial Court
Edit
Akemi was a large-bodied samurai-ko who dressed plainly and wore her hair tied back in a formal topknot. Akemi was a blunt and harsh woman who often spoke her mind, even in court. When Iweko I's daughter, Iweko Miaka, came to age, many prominent samurai from every clan and faction set out to court her. Although Akemi's political influence was limited, she intended to use her contacts to make sure the princess had a Crab husband. [1] Akemi was one of only a handful of individuals who had ever spoken critically of Iweko Miaka publically. Miaka spent an evening in conversation with the former wrestler, and Akemi had succumbed to the young woman's bright, cheerful mood just as everyone else had. [2]
Colonies
Edit
In 1199 Akemi was appointed in the Second City, where she had to remove any and all gaijin symbols from the city. She and her men were demolishing a shrine of the Temple District, when the Ivory Champion Shinjo Tselu ordered her to detain her task. [3]
External Links
Edit
References
Ad blocker interference detected!
Wikia is a free-to-use site that makes money from advertising. We have a modified experience for viewers using ad blockers

Wikia is not accessible if you've made further modifications. Remove the custom ad blocker rule(s) and the page will load as expected.