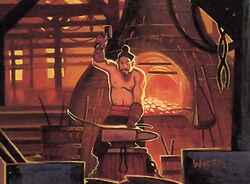 Kaiu's Forge was the largest and most sophisticated craftsman's forge in Rokugan. [1] It was located deep within Kaiu Shiro, never unguarded. It dominated that structure's sizeable courtyard. [2]
Kaiu Blades
Edit
The blaze in its pit was always alight. Once a year the Kaiu Master Smith forged five swords from the best steel available, the Kaiu Blades. They would never dull or break unless the forge itself was destroyed. The forge was created by Kaiu to forge Chikara when Hiruma, Kuni, and Kaiu had been given the task of slaying Oni no Hatsu Suru. [3]
Kaiu's Legacy
Edit
The Kaiu Forge consisted of five separate pieces once wielded by the first Kaiu: hammer, tongs, anvil, fire pit, and bellows. The forge could be used only five times per year, only to craft katana. The hammer was beaten in a peculiar rhythm, knew by the Master Smith and his chosen sucessor. [4] The first Katana ever made there was Chikara. [5]
In the 12th century one of the massive forges was set aside for use in training the most promising of students, teaching the Kaiu Engineer and Kaiu Blacksmith schools. [6]
Known Kaiu Master
Edit
External Links
Edit
References
Ad blocker interference detected!
Wikia is a free-to-use site that makes money from advertising. We have a modified experience for viewers using ad blockers

Wikia is not accessible if you've made further modifications. Remove the custom ad blocker rule(s) and the page will load as expected.