Kaiu
Talk

2
21,392pages on
this wiki
Kaiu was known as the First Smith, [1] the builder of ships and armor and was the founder of the Kaiu family. [2] Kaiu also apprenticed the famous Crane smith, Doji Yasurugi. [3]
Initial Duty
Edit
Kaiu was intially tasked with the construction of Kyuden Hida, and created armor for many of the Crab Clan's first followers including Hiruma. Kaiu's relentless application to his work however caused him to be banished from the construction site by one of his sons, who thought he pushed the peasant workers too hard and would cause the project to fail. [4]
"I need something I can touch with my hands if I am to understand it."
-Kaiu
Oni no Hatsu Suru
Edit
In 43 when Hida first began his search for followers, Kaiu stepped forward with Hiruma and Kuni. To prove themselves they had to enter the Shadowlands and kill Oni no Hatsu Suru, a guardian left behind by Fu Leng. Kaiu's part in the fight with the oni was crafting the weapon Chikara which was wielded by Hiruma and later became the Ancestral Weapon of the Crab Clan. Kaiu was badly wounded by Hatsu Suru in the fight protecting Kuni, but survived. Afterwards Kaiu's reward was permission to found his own family and granted the honor of coordinating the defense against the Shadowlands. He was a blacksmith and forged the weapons used against the Shadowlands. [5]
"A samurai is protected by steel and conviction."
-Kaiu
Kaiu family
Edit
The Kaiu family was formed with craftsmen and builders who were helping construct the castles and fortifications in the lands of the Crab. [7]
Kaiu was the sensei of the legendary swordsmith Doji Yasurugi. [3]
External Links
Edit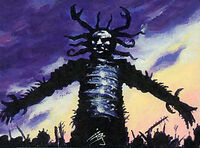 References