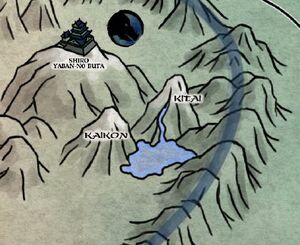 Kaikon (Regret) was the twin peak of Kitai (Hope), among the highest in the Twilight Mountains. The mountains were named by the Crab at the Dawn of the Empire. Miya Akate found them leading a team of Hiruma explorers. The mapmaker made top first in Kitai, but he never returned from his climbing to Kaikon. Both peaks kept the place known as the Lair isolated from the rest of the Empire. [1] Into the side of the mountain was built the Lonely Monastery, [2] and a natural aquifer within the mountain was drained by the Boar to create an underground storeroom known as the Vault. [3]
References
Ad blocker interference detected!
Wikia is a free-to-use site that makes money from advertising. We have a modified experience for viewers using ad blockers

Wikia is not accessible if you've made further modifications. Remove the custom ad blocker rule(s) and the page will load as expected.