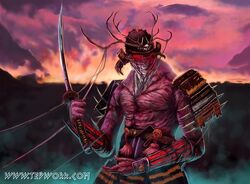 Kagami no Oni was an oni of the Shadowlands.
Appearance and abilities
Edit
Kagami no Oni were roughly human-sized and humanoid in appearance, and were created by The Maw to counter the ranks of the Lost during the civil war in the Shadowlands in the Twelfth century. Kagami no Oni were deceptively powerful, in relation to their size, and had an incredibly dense muscular and skeletal structure. This resulted in their weight being roughly three times that of a human being their size. Their physical and athletic strengths were similar to that of large apes, but they were also very intelligent. They relished taunting their opponents, and could easily adapt to new weapons and tactics. [1]
External Links
Edit
References
↑ Creatures of Rokugan; Third Edition, pp. 121-122
Ad blocker interference detected!
Wikia is a free-to-use site that makes money from advertising. We have a modified experience for viewers using ad blockers

Wikia is not accessible if you've made further modifications. Remove the custom ad blocker rule(s) and the page will load as expected.