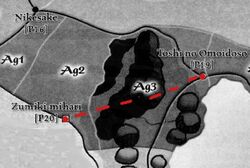 Kagaku Path was the road that connected City of Remembrance (P19) to Zumiki-mihari (P20). Though it appeared on no maps, Kagaku Path was not a road at all to the untrained eye. When granted a special pass phrase the roots, weeds, and stones move aside to allow a traveler swift and safe passage to Zumiki-Mihari. [1]
References
↑ Secrets of the Phoenix, p. 17
Ad blocker interference detected!
Wikia is a free-to-use site that makes money from advertising. We have a modified experience for viewers using ad blockers

Wikia is not accessible if you've made further modifications. Remove the custom ad blocker rule(s) and the page will load as expected.