Please note: This article is about the former Lion Akodo Yogodayu. For other uses of the term, please see Kado (disambiguation).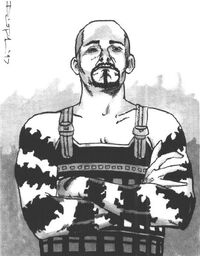 Akodo Yogodayu was a bushi of the Lion Clan who became a ronin with the name of Kado. He earned the nickname of Gate.
Yogodayu was a sergeant in the Lion infantry when he Matsu Shigeko. [1] They fell in love of each other, but it happened shortly after Shigeko had taken the vow of celibacy. Yogodayu requested a post far from his beloved, and was sent to the Ikoma Castle. [2]
Ancestor
Edit
Akodo Ippai was Yogodagu's grandfather, and a Lion hero, who had held Beiden Pass with only twenty samurai against a thousand Scorpions until their relief could arrive. Yogodayu in his new post found documents showing that Ippai had left behind the twenty samurai, including his own son, and all of them were killed by the enemy. Meanwhile Ippai had retreated to a superior position and with the bulk of his army had gained the victory. Yogodayu was devastated, and when he asked to espose his ancestor lie and to commit seppuku to clean his family stain, his lord denied it because he prefered the lie to be alive than a Lion hero to be ashamed. [1]
Ippai had two reasons to leave his clan, so he took the name of Kado, and moved to Ryoko Owari Toshi. He became the guardian of the entrance to the Licensed Quarter in the Teardrop Island. His shop was Swords Polished, the only entrance to the Quarter, and he requested to drop the blades so he could polish them for a fee. This was simply a ruse to allow samurai to surrender the swords of their grandfathers without losing face. [3]
Gate died during the Clan War, and his task was assumed by Kaiju, a Scorpion who posed as a ronin. [4]
See also
Edit
References
↑ City of Lies: GM's Guide, p. 51
↑ City of Lies: Player's Guide, p. 76
↑ Way of the Thief, p. 68
Ad blocker interference detected!
Wikia is a free-to-use site that makes money from advertising. We have a modified experience for viewers using ad blockers

Wikia is not accessible if you've made further modifications. Remove the custom ad blocker rule(s) and the page will load as expected.