Kacha was a Rhumalist at command of his leader Giya. They traveled to Medinaat al-Salaam before the Awakening as Kali-Ma ordered Giya. [1]
Teaching
Edit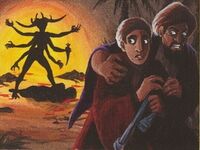 Kacha taught the ways of the cult to Punjat, an initiate. They killed several men to boost the power of their goddess. When they left the bloody place, Kali-Ma was already feeding on the corpses. [2]
References
Ad blocker interference detected!
Wikia is a free-to-use site that makes money from advertising. We have a modified experience for viewers using ad blockers

Wikia is not accessible if you've made further modifications. Remove the custom ad blocker rule(s) and the page will load as expected.