Kabdar Fassal was an Ebonite Templar who was appointed as Principal of Valor.
As Templar his favorite weapon was the khadja. [1]
Medinaat al-Salaam
Edit
In 1130 Fassal believed the Senpet would make an aggressive movement against Medinaat al-Salaam and began to enhance its defenses. [2]
Ebonite Avatar
Edit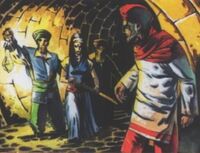 In 1132 Kabdar made a strange alliance with the daughter of the Old Man of the Mountain Shala, the Yodotai Adrianna, and the Qabal Dawuud. All of them aided Zahra, another Ebonite, who had been discovered of an Avatar, to reach the City of the Seventh Star through the Sewers. [3] The avatars unleashed the prophecy called the Awakening. It fred the Goddess Shinjo, defeated the assaulters of the Shattering of the Jewel, and would be instrumental in the demise of the Immortal Caliph. [4]
Principle
Edit
Kabdar Fassal was appointed as Principal of Valor by Judgment after many years stationed at Sentinel Point. [5]
A Jinn is dead by an human
Edit
In 1132 after the Goddess was released during the Awakening the Jackal made an attack to gain control of the Ebon Stone, but were repelled. After the fighting at the Temple of the Black Stone, a wall collapsed by one of the Jackals' volleys showed hidden tunnels beneath. Inside one of the branch tunnels they found two corpses, Tabari, the Qabal Shadowmaster, and the other was the jinn Gathriq. Both were long-dead, locked in a final battle-pose. A black sword gripped in the hands of Tabari pinned Gathriq up against the tunnel wall. No jinn had ever died by the hands of a human. It broke the myth of Jinn immortality. [1]
External Links
Edit
References
Ad blocker interference detected!
Wikia is a free-to-use site that makes money from advertising. We have a modified experience for viewers using ad blockers

Wikia is not accessible if you've made further modifications. Remove the custom ad blocker rule(s) and the page will load as expected.