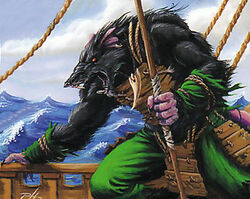 K'chee was a nezumi bushi and scout of the Chipped Tooth Tribe.
Island in the Mist
Edit
K'chee and some of his packmates were trapped on the Island in the Mist for several years, because of the Skull Tide sea phenomen. Ikoma Otemi arrived to the island and was able to release them, adn the Nezumi became part of the crew of the Koutetsukan Deathless. [1] Otemi found in K'chee a long term ally. [2]
Chasing pirates
Edit
In 1169 the ship was owned by the nezumi, and I-m'jek was his captain. They captured a pirate ship with the aid of the Crab Hida Sadaharu. [3]
External Links
Edit
References
Ad blocker interference detected!
Wikia is a free-to-use site that makes money from advertising. We have a modified experience for viewers using ad blockers

Wikia is not accessible if you've made further modifications. Remove the custom ad blocker rule(s) and the page will load as expected.