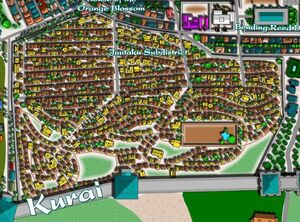 The Juutaku Subdistrict was part of the larger Kurai District at Toshi Ranbo, situated to its south. It was composed of heimin residential space, along with markets at the boundary between the heimin and samurai housings. [1]
Juutaku Subdistrict Court
Edit
The subdistrict court seemed a large magistrate's station, dominated by one principle three-story structure, situated along the largest roads in the center of the subdistrict. The large audience chamber on the third !oor was used as the primary one by the current governor. A posting in this court was a sign of disfavor in the Imperial City. [1]
The Eta Residences
Edit
South of Toshi Ranbo, out of the city walls, lived the eta under the control of the Juutaku government, even when technically, this portion of town was not under the authority of the city proper. [1]
References
Ad blocker interference detected!
Wikia is a free-to-use site that makes money from advertising. We have a modified experience for viewers using ad blockers

Wikia is not accessible if you've made further modifications. Remove the custom ad blocker rule(s) and the page will load as expected.