Ad blocker interference detected!
Wikia is a free-to-use site that makes money from advertising. We have a modified experience for viewers using ad blockers

Wikia is not accessible if you've made further modifications. Remove the custom ad blocker rule(s) and the page will load as expected.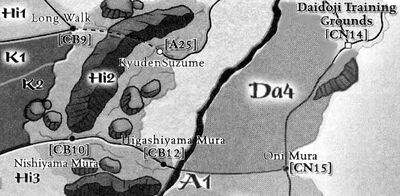 The Juuin province (Hi2) was a Hida controlled province. [1]
Mountains
Edit
The Wall Above the Ocean mountains stretched through the entire province until the Mountain Road. There was a notable jade mine in these mountains [2] as well as a network of natural caverns, connecting west to east. [3] which were notorious for becoming periodically infested with Shadowlands creatures. [4]
Notable locations
Edit
The villages of Higashiyama Mura (CB10) [5] and Nishiyama Mura (CB12) [6] were located on each side of the Wall Above the Ocean mountains. [1]
The Bells of the Dead were located in somewhere in the mountains. [7]
Nearby provinces
Edit
The Juuin province was bordered by the Garanto province (Hi1) to the North, by the Kyoukan province (Hi3) to the south, the Midakai (K1) and Adauchi (K2) provinces to the west, the Ichigun province (Da4) of the Crane Clan to the east, [1] separated by the Kawa no Kin, and the lands of the Sparrow Clan and Kyuden Suzume (A25) to the northeast. [8] [9]
References
↑ Secrets of the Crab, pp. 18-19
↑ Legend of the Five Rings; Third Edition, p. 287
↑ The Atlas of Rokugan, p. 15
↑ Secrets of the Crab, p. 18
↑ Secret of the Crab, p. 19
↑ Legend of the Five Rings; Third Edition, p. 306
↑ Legend of the Five Rings; Third Edition Map
↑ Legend of the Five Rings; Third Edition, p. 301