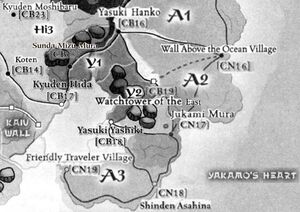 The Junkin province (Y2) was a Yasuki controlled province, which housed Yasuki Yashiki, the home of the Yasuki family. The Wall Above the Ocean mountains ended here. [1] It also contained Friendly Traveler Village, [2] the Watchtower of the East, [3] as well as Kano Mura [4] and Nobuto Toshi. [citation needed]
It was bordered by the Earthquake Fish Bay to the West, Sunda Mizu province (Y1) to the North, [1] the Asahina Anshin (A1) and Wakiaiai provinces (A2) to the East. To the South was bordered by the Asahina Shinkyou province (A3). [5]
References
↑ The Atlas of Rokugan, p. 30
↑ Game Master's Guide; 2nd Ed, p. 24
↑ Secrets of the Crab, p. 84
↑ Secrets of the Crane, p. 96
Ad blocker interference detected!
Wikia is a free-to-use site that makes money from advertising. We have a modified experience for viewers using ad blockers

Wikia is not accessible if you've made further modifications. Remove the custom ad blocker rule(s) and the page will load as expected.