Journey's End City
Talk

0
26,126pages on
this wiki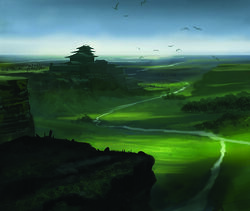 Journey's End City was a Rokugani city in the Colonies, [1] [2] a few days north of the Second City, which was built around Journey's End Keep. [3]
Location
Edit
Journey's End City grew up outside the caravan park situate below Journey's End Keep, which sat atop a steep hill. The city spreaded southward into the jungle and eventually reaching the banks of the Shinano river, from which riverine traffic connected to the Second City. [4]
Imperial Legion
Edit
The Ninth Imperial Legion was stationed there in the late 12th century. [5]
In 1199 a horde of Fallen laid siege to the city. [6] The city was lost, taken from within and then the gates of the stronghold were opened to the maddned horde outside. [7]
Notable Locations
Edit
References