Journey's End City
Talk

0
23,016pages on
this wiki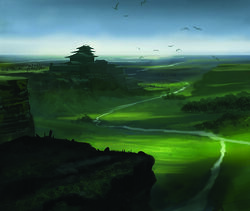 Journey's End City was a Rokugani city in the Colonies.[1] [2] The name suggests that it might have been near the Unicorn holding Journey's End Keep.
Imperial Legion
Edit
The Ninth Imperial Legion was stationed there in the late 12th century. [3]
In 1199 a horde of Fallen laid siege to the city. [4] The city was lost, taken from within and then the gates of the stronghold were opened to the maddned horde outside. [5]
References