Journey's End Keep was a holding of the Unicorn Clan. It was located in the Rokugani colonies within the then ruined Ivory Kingdoms. There the Unicorn welcomed their clansmen after many weeks of travelling to the colonies. Their celebrations were legendary. [1]
Founding
Edit
Journey's End Keep was begun to be built two months after the Spider's exodus began, as a shelter for the incoming winter. Heavy snows never came, but it was founded a village and fortress that straddled the divide between the Kingdoms and the Western Wastes to the north. The capital of the Colonies, the Second City, was built farther south, a few days' travel south of the Keep. [2]
Location
Edit
Journey's End Keep rested on the edge of a jungle-choked plateau from which a long stretch of grass and scrub-plain slowly descended north. To the northwest was the desert of the Burning Sands; to the northeast, the Ki-Rin's Path traveled into the emptiness of the Western Wastes. Due to the proximity of the desert, the weather was hotter and drier than elsewhere in the Colonies; the summer was longer, monsoon shorter and less fertile, and drought was more frequent. The abandoned palaces and cities of the Ivory Kingdoms were fewer and more widely scattered in this region. [3]
Journey's End City
Edit
The keep sat atop a steep hill, and below was very large enclosure, protected by a high wooden stockade where trade caravans made camp. A sizable town, Journey's End City grew up outside the caravan park. [4]
In 1199 a horde of Fallen laid siege to the city. [5] The city was lost, taken from within and then the gates of the stronghold were opened to the maddened horde outside. [6] After the Fallen were defeated by the Imperial Legions, the Keep's control did not return to the Unicorn, remaining as an Imperial holding. [7]
Known Governors
Edit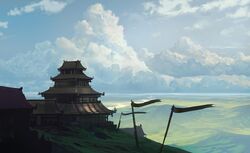 External Links
Edit
References
↑ Second City - The City, p. 5
↑ Second City - The Campaign, p. 41
↑ Second City - The Campaign, p. 42
↑ Journey's End Siege (Gates of Chaos flavor)
Ad blocker interference detected!
Wikia is a free-to-use site that makes money from advertising. We have a modified experience for viewers using ad blockers

Wikia is not accessible if you've made further modifications. Remove the custom ad blocker rule(s) and the page will load as expected.