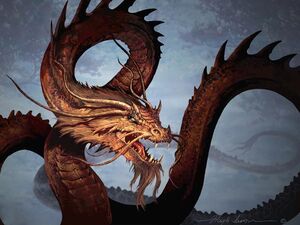 Jotei was the Fortune of the Morning Dew, also enigmatically called the Reverse Fortune, [1] who protected the foolish and devout, those that were well-intentioned yet ignorant. [2]
Jotei was the least known of all Fortunes, and his only established shrine, the Shrine of Reverse Fortunes, remained hidden deep within Unicorn lands, [1] in the rough lands near Exile's Road. [3]
Demeanor
Edit
He was said to protect people who were foolish but pure of heart. Their lives were like the morning dew itself, seemingly without reason, but pure and simple. It was said Jotei himself was a bit of a trickster, enjoying the constant humor a life lightly lived brings, and appeared in Ningen-do as a great [1] golden dragon. Jotei did not seek worshippers, but occasionally those who were foolish but pious were inexorably drawn to his shrine. Jotei focused upon protecting his chosen, those who were pure of heart but weak of mind. He offered advice to his chosen that would help them find their destiny and hopefully gain a bit of wisdom along the way. [3]
External Links
Edit
References
Ad blocker interference detected!
Wikia is a free-to-use site that makes money from advertising. We have a modified experience for viewers using ad blockers

Wikia is not accessible if you've made further modifications. Remove the custom ad blocker rule(s) and the page will load as expected.