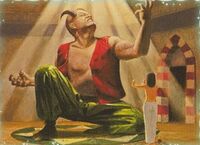 The Jinn of the New Moon was a jinn of the Qanon who could only be summoned when the stars were in the appropiate position, and its price was great, [1] the death of the sahir who cast the jinn. [2] The Jinn's fate would be the Moto's salvation. [1]
The jinn had been dormant within the corpse of Dawuud, who willingly sacrificed himself to allow the Jinn to save the Moto. The jinn appeared in the middle of the Shattering of the Jewel. [2]
External Links
Edit
References
Ad blocker interference detected!
Wikia is a free-to-use site that makes money from advertising. We have a modified experience for viewers using ad blockers

Wikia is not accessible if you've made further modifications. Remove the custom ad blocker rule(s) and the page will load as expected.