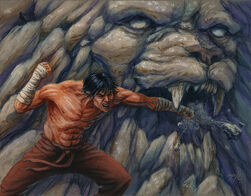 Jikoji, Fist of Stone was an earth monk who joined the Lion Clan.
Jikoji was a member of the Order of Bishamon, devoted to the Fortune of Strength. Ne was a man of slight build, but betraying no hint of the strength that he possessed. Bone, stone, and even metal could shatter under the force of his strikes if he so desired it. [1]
Demeanor
Edit
Jikoji was not the violent man as when he was young, a tempestuous and dangerous individual who participated in a number of dangerous, full contact tournaments that were never endorsed by the Brotherhood, but which certain orders conducted in secret. It was alleged that Jikoji lost only once, the result of which was the massive scar that trailed up his chest and ended upon his cheek. [1]
Colonies
Edit
The Brotherhood of Shinsei dispatched the Fist of Stone to the Colonies, to fight the machinations of the Fudo cult there. [1] In 1198 he and seven other fellow monks traveled together to the Colonies [2] and offered himself as advisor to the [3] Lion Clan. [4]
External Links
Edit
References
Ad blocker interference detected!
Wikia is a free-to-use site that makes money from advertising. We have a modified experience for viewers using ad blockers

Wikia is not accessible if you've made further modifications. Remove the custom ad blocker rule(s) and the page will load as expected.