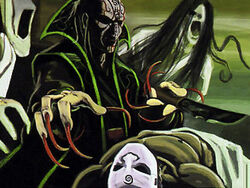 Jiang Shi were Shadowlands creatures that straddled the border between life and death. [1]
Abilities
Edit
They were not undead, but they did not need to breathe or consume food to survive. A Jiang Shi was essentially immortal unless destroyed, but they continued to age with each passing year. They had to survive devouring a victim's Chi, and they would be destroyed without a regular source of living persons. [1]
Appearance
Edit
Ancient Jiang Shi often appeared to be incredibly old, and often possessed incredibly long hair and fingernails. Their dead legs stiffened with rigor mortis, forcing them to move with a peculiar hopping gait. Their eyes were no longer functional, but Jiang Shi easily noticed the breath of living creatures, their prey. [1]
Known Jiang Shi
Edit
References