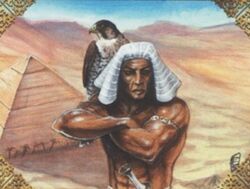 Jaqhabet was a Senpet falconer, and his war-bird was Ani. [1]
The Senpet had defeated the Yodotai and their Erba'a Alliance in the Shattering of the Jewel, [2] but the Yodotai Scouting parties growing in their bold missions. Jaqhabet was sent to know what was they planning. After he made a scouting, returned with the terrible truth. [1] The countless Yodotai Legions were approaching to begin the Yodotai Invasion of Senpet lands, which would prove the demise of his ancient civilization. [3]
External Links
Edit
References
Ad blocker interference detected!
Wikia is a free-to-use site that makes money from advertising. We have a modified experience for viewers using ad blockers

Wikia is not accessible if you've made further modifications. Remove the custom ad blocker rule(s) and the page will load as expected.