Ad blocker interference detected!
Wikia is a free-to-use site that makes money from advertising. We have a modified experience for viewers using ad blockers

Wikia is not accessible if you've made further modifications. Remove the custom ad blocker rule(s) and the page will load as expected.
Janan Barakah was a pirate captain in the Burning Sands.
He had a Sand ship which he moved over the sands with the aid of the wind. [1] He called himself "Sultan of the Sands", and he had a sister, Julianna Barakah, who worked alongside him and used her magical gifts to avoid their capture. [2]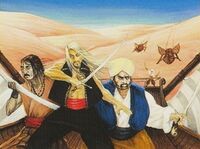 Janan was hunted by Haythum Za'nul, another sand pirate, for copper, glory, and the hand of her sister. [3] Haythum and Janan worked together for a time, in the called "Great Hunt". [4]
Janan loved adventure, wine, and women, as his friend Seff. With their competitive nature they provoked many scandalous affairs. It ended when Seff took liking of the Immortal Caliph and became his lover for a time. The Caliph had four Seff's trophies from this relationship, and Seff bore an eyepatch, so he began to be known as Seff Seven-Fingers. [5]
Sand ship destroyed
Edit
Somehow the pirates reached to the location were the City of Orphans was hovering over the desert. A funnel of sand appeared and the ship was ripped apart. [6] Haythum found the shipwreck, but not the Barakah, who had left the place [7]
External Links
Edit
References