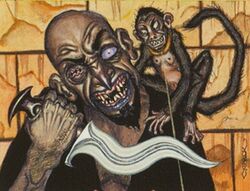 Jambiya were curved and sharpened daggers. The wide edges were designed to make the maximum damage when they were stabbed. [1]
Ivory Kingdoms
Edit
This weapon migrated to the Ivory Kingdoms became another trademark weapon of the Kshatriya, who always carried a jambiya at their right hip. It was also the weapon of choice for the Cult of the Destroyer who favored this weapon due to its wicked sharp blade and ease of concealment. By the edict of the Maharaja, all jambiya must be worn openly at all times. [2]
References
Ad blocker interference detected!
Wikia is a free-to-use site that makes money from advertising. We have a modified experience for viewers using ad blockers

Wikia is not accessible if you've made further modifications. Remove the custom ad blocker rule(s) and the page will load as expected.