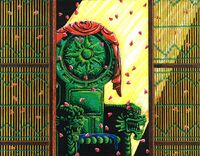 The Jade Throne was the second throne of the Empire of Rokugan. It was crafted in 1128 after the destruction of the Emerald Throne on the Second Day of Thunder.
Jade Empire
Edit
Toturi I chose jade as the stone of his throne to symbolize the Empire's victory over Fu Leng. Rokugan became known as "The Jade Empire." [1]
Destruction
Edit
The Jade Throne lasted a decade before it was destroyed by Toturi I to prevent Hantei XVI from capturing it. [2]
External Links
Edit
References
↑ Live Action Roleplaying, p. 19
Ad blocker interference detected!
Wikia is a free-to-use site that makes money from advertising. We have a modified experience for viewers using ad blockers

Wikia is not accessible if you've made further modifications. Remove the custom ad blocker rule(s) and the page will load as expected.