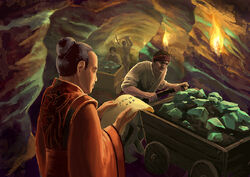 Jade Mines were rare, as jade had slowly been consumed so that the Crab could stand against the Shadowlands. Prior to the Battle of Oblivion's Gate, every jade mine in Rokugan tithed a reasonable amount of its yield to Imperial representatives, who in turn passed it on the Crab. Since the destruction of Otosan Uchi that percentage had increased dramatically. [1]
Deposits
Edit
The Crab boasted some of the largest jade mines in the Empire. In the Spine of the World Mountains mines were worked by the Scorpion and the Crane, and the Phoenix extracted small quantities of jade from the Great Wall of the North. [2]
External Links
Edit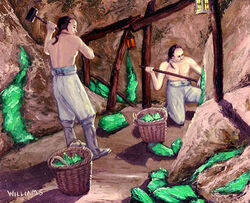 References
Ad blocker interference detected!
Wikia is a free-to-use site that makes money from advertising. We have a modified experience for viewers using ad blockers

Wikia is not accessible if you've made further modifications. Remove the custom ad blocker rule(s) and the page will load as expected.