Jade Bows were magically imbued jade bows which fired arrows wreathed in holy green fire. [1]
During the War Against Fu Leng the Empire discovered jade's power to combat the beasts. The students of Agasha forged the first enchanted jade bows. During the Clan War these items were again highly sought, preferring them to the sword when dealing with the Shadowlands beasts, as they provided a ranged attack, and avoided the contact with the foul beasts that bore the Shadowlands Taint. [2]
See also
Edit
External Links
Edit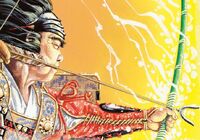 References
Ad blocker interference detected!
Wikia is a free-to-use site that makes money from advertising. We have a modified experience for viewers using ad blockers

Wikia is not accessible if you've made further modifications. Remove the custom ad blocker rule(s) and the page will load as expected.