Ad blocker interference detected!
Wikia is a free-to-use site that makes money from advertising. We have a modified experience for viewers using ad blockers

Wikia is not accessible if you've made further modifications. Remove the custom ad blocker rule(s) and the page will load as expected.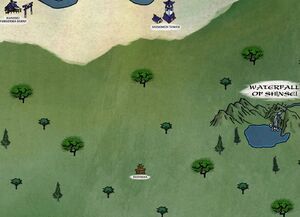 Iyotisha (N1), the name for the Naga reverence of astrology, [1] was the City of Astronomy, the hereditary home of the Naga Constrictor Bloodline. It fell into ruins during the Great Sleep. [2] It remained hidden deep within the western valleys of the Shinomen Mori and the temple of the Vedic priests remained whole. [3]
Naga Language
Edit
The broken walls of Iyotisha were covered with strange script that only one familiar with the Naga Language could read. Iuchi Shugenja worked to translate the arcane symbols and reveal their meaning without success. [4]
Defenders
Edit
In 1160 Naga Asp awakened to protect the city from the Tsuno, the beasts who used the Great Sleep of the Naga Race to travel between Spirit Realms. [5] The Khan gave the duty of protecting the city to the Twenty-Eighth Junghar Legion. [6]
References