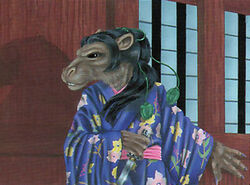 Iyaktakko was a female Nezumi spy. [1]
Ambassador
Edit
In 1123 when nezumi sneaked into Daidoji lands, stealing everything that was not nailed down, Iyaktakko was sent as ambassador to the court of Garden Under Shadow City. She explained that their migration had been caused by an oni which had entered their territory. Negotiations continued despite the Daidoji slaughtered entire nezumi tribes which threatened the peasants in seaside villages near Earthquake Fish Bay. [2]
Bow of Jade
Edit
The nezumi were seeking the Bow of Jade, a mystic artifact reputed to be able to destroy the demon, but the Crane had no knowledge of the item. The Kitsu through their connection with the ancestors had learned the bow was located in a small temple, just south of Yasuki Yashiki. Because they were at odds with the Crane, the Kitsu manouvered in secrecy to deny the Crane would get the item, so their provinces would continue to suffer from the 'invasion'. [3]
References
Ad blocker interference detected!
Wikia is a free-to-use site that makes money from advertising. We have a modified experience for viewers using ad blockers

Wikia is not accessible if you've made further modifications. Remove the custom ad blocker rule(s) and the page will load as expected.