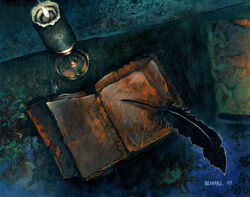 Iweko's Journal was written by Kitsuki Iweko prior to her ascension as the Divine Empress Iweko I. [1] They offered fascinating insights into the mind of a brilliant Kitsuki. [2]
Contested ownership
Edit
Shosuro Ohba and Shosuro Sogetsu were tasked by the Emerald Champion Shosuro Jimen to find and secure the Iweko's journals. The pair infiltrated Shiro Kitsuki during the Siege of Shiro Kitsuki. [1]
External Links
Edit
References
Ad blocker interference detected!
Wikia is a free-to-use site that makes money from advertising. We have a modified experience for viewers using ad blockers

Wikia is not accessible if you've made further modifications. Remove the custom ad blocker rule(s) and the page will load as expected.