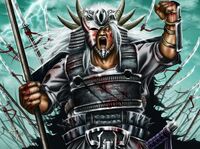 Iweko's Conquerors, also known as Colonial Conquerors, [1] were tainted members of the Spider Clan who were sent to the ruined and abandoned region once known as the Ivory Kingdoms to bring them to the Empire. [2]
Founding
Edit
In the aftermath of the Destroyer War in 1173, the Empress Iweko I granted limited amnesty to the Spider Clan members. Those who were tainted were not permitted to remain within the Empire, but were instead banished into the Ivory Kingdoms in the Spider's exodus. They would bring order to the Colonies, pacifying the region under the supervision of the Dragon Clan. [3]
Known Technique
Edit
References
↑ Second City - The People, p. 101
Ad blocker interference detected!
Wikia is a free-to-use site that makes money from advertising. We have a modified experience for viewers using ad blockers

Wikia is not accessible if you've made further modifications. Remove the custom ad blocker rule(s) and the page will load as expected.