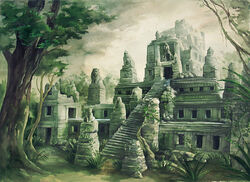 The Ivory Palace was the Maharaja's palace. It was a massive building which dominated the sightseeing from many miles around. [1] A vast sprawling metropolis laid in ruins surrounded it. [2]
Ruined Kingdoms
Edit
In 1172 a Mantis expedition to the Ivory Kingdoms was not able to see the palace, so it was assumed it had been lost, as well as other holdings of the Ruined Kingdoms. [1] The ruins were found in the Unknown Lands. [3] They built a road south to the Suitengu's Torch in the coast. [4]
Lost Treasures
Edit
The ruined palace was visited by Anshu, the son of Yoritomo Aramasu, who found the Maharaja's Vault. Ten years later he was able to overcome the wards with the aid of Kamalakar, son of the last Maharaja. Despite it, the treasures within the chamber remained untouched for a decade, as the wards that protected them were quite powerful, ensuring that any of Kingdomite blood would draw the wrath of the spirits of all past Maharaja. In 1198 appeared Mirumoto Kojinrue, who only seized books of lore there. [5]
References
↑ Second City - The City, p. 6
↑ Second City - The City, p. 87
Ad blocker interference detected!
Wikia is a free-to-use site that makes money from advertising. We have a modified experience for viewers using ad blockers

Wikia is not accessible if you've made further modifications. Remove the custom ad blocker rule(s) and the page will load as expected.