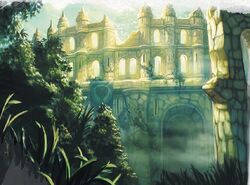 Ivory Magistrate was the name given to those magistrate who were under the command of the Ivory Champion, the counterpart Colonial version of the Emerald Champion. [1] The Ivory Champion's hatamoto, Lieutenant Magistrate, oversaw all of their activities. [2] The Ivory Magistrates had authority in the entirety of the Colonies and they answered only to the Ivory Champion or to the Imperial Governor of the Colonies. [3] They were originally known as Colonial Magistrates. [4]
Known Ivory Magistrates
Edit
External Links
Edit
References
↑ Second City - The People, p. 15
↑ Second City - The City, p. 19
Ad blocker interference detected!
Wikia is a free-to-use site that makes money from advertising. We have a modified experience for viewers using ad blockers

Wikia is not accessible if you've made further modifications. Remove the custom ad blocker rule(s) and the page will load as expected.