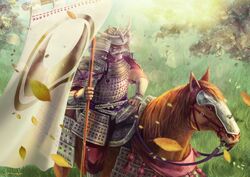 The Ivory Champion was a position created by Otomo Suikihime following her ascension to the position of Imperial Governor of Second City, in the Colonies in the former Ivory Kingdoms. It ressembled the counterpart Colonial version of the Emerald Champion. [1]
Creation
Edit
In 1198, in the Month of the Rooster, the Imperial Governor of the Colonies Otomo Suikihime held a contest to select her personal champion and representative. Shinjo Tselu won it, becoming the first Ivory Champion. [2]
The duties of the position were ill-defined initially, but amongst which encompassed the safety fo the Governor and the organization of the Second City Guardsmen. Shinjo Tselu was the first appointed Ivory Champion. [1] His badge of office was the Ivory Sword [3] and the magistrates under his command were known as Ivory Magistrates, [4] members of the Ivory Legions. [5] He was the Head of the Ministry of Defense and Justice,  [6] the Lieutenant Magistrate was his hatamoto and the HEad of the Imperial Explorers was selected by the Ivory Champion himself. [7]
Modified Charter
Edit
After the Siege of the Second City, being the Second City's governor in hiding, the position of Ivory Champion was divested from accountability to the Governor of the Second City, though its purview remained in the realm of enforcing law, not administration. [8]
Ivory Champions
Edit
External Links
Edit
References
Ad blocker interference detected!
Wikia is a free-to-use site that makes money from advertising. We have a modified experience for viewers using ad blockers

Wikia is not accessible if you've made further modifications. Remove the custom ad blocker rule(s) and the page will load as expected.