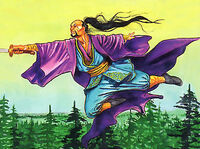 Iuchi Tudev was a shugenja of the Unicorn Clan and Bloodspeaker.
Blood Hunt
Edit
In 1166 Tudev was discovered as Maho-tsukai. Utaku Tama chained him, and began to questioning. Tama threatened Tudev with torture. She had a Slayer's Vial, a poison that provoked so much pain that the victim usually died by the violent spasms that broke their bones and tore their muscles apart. Tudev told her all the cultist he knew, in exchange of his freedom. Tama would give his name and likeness to magistrates of every clan, becoming an outcast. [1]
External Links
Edit
References
Ad blocker interference detected!
Wikia is a free-to-use site that makes money from advertising. We have a modified experience for viewers using ad blockers

Wikia is not accessible if you've made further modifications. Remove the custom ad blocker rule(s) and the page will load as expected.