RPG Information
Edit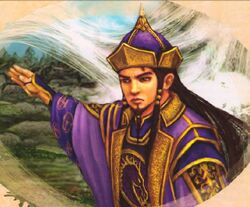 Iuchi Ietsuna, Prisoner of the Ruby
Statistics
Edit
| | | | | | |
| --- | --- | --- | --- | --- | --- |
| | Air 3 | Earth 3 | Fire 3 | Water 4 | Void 3 |
| | Reflexes 3 | Stamina 3 | Agility 3 | Strength 4 | |
| | Awareness 3 | Willpower 3 | Intelligence 3 | Perception 4 | |
Advantages
Edit
Disadvantages
Edit
Sense, Commune, Summon, Counterspell, Importune, Banish, Extinguish, Fires of Purity, The Fires From Within, Essence of Fire, By the Light of Lady Moon, Speed of the Kami, Secrets on the Wind, Gift of the Wind, Armor of Earth, Jade Strike, Tomb of Jade, Bo of Water, Castle of Water, Heart of Nature, Path to Inner Peace, Speed of the Waterfall, Rejuvenating Vapors, Ride Through the Night, Wave-Borne Speed, Ashim's Rainbow Shield, Near to Ice, Torrential Rain, Master of the Rolling River, The Emperor's Road.
Note: Spells in italic are Innate Abilities.
Major References
Edit
Ad blocker interference detected!
Wikia is a free-to-use site that makes money from advertising. We have a modified experience for viewers using ad blockers

Wikia is not accessible if you've made further modifications. Remove the custom ad blocker rule(s) and the page will load as expected.