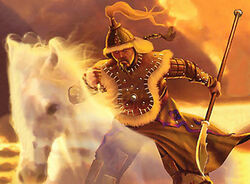 Iuchi Bitomu was an air shugenja of the Unicorn Clan and member of the Baraunghar.
Bitomu was the commander of an outpost in the Utaku Plains. A childhood friend, Shinjo Shria was under his command. [1]
Baraunghar Prepares
Edit
In 1168 the General of the Baraunghar, Iuchi Lixue, asked for all the reserves to return to Shiro Moto. The Baraunghar would move out in the first steps of the Khan's Defiance, executing several raids along Lion lands, to draw focus away from the movements of the Khan's army. [1]
External Links
Edit
References