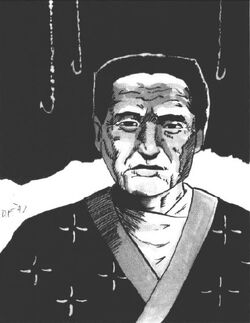 Itoshi, most known as "Pitiful" was an eta of Ryoko Owari Toshi. He was the chief cop of the Leatherworker community's leader, Raspy. [1]
Nickname
Edit
Itoshi missed his legs beneath the knees, and for this he gained his nickname. [2]
Torturer
Edit
Pitiful worked as torturer of the Emerald Magistrate of the city, Matsu Shigeko. He used a false kindness with his victims, and many of them surrendered to confese their crimes. [2] Pitiful made sure that the prisoner knew the torture would stop as soon as a confession was made. [3]
References
↑ City of Lies: GM's Guide, p. 11
↑ City of Lies: GM's Guide, p. 57
Ad blocker interference detected!
Wikia is a free-to-use site that makes money from advertising. We have a modified experience for viewers using ad blockers

Wikia is not accessible if you've made further modifications. Remove the custom ad blocker rule(s) and the page will load as expected.