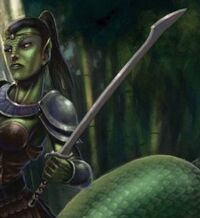 Naga Blades were larger than katana to fit the Naga fighting style, which favored their innate longer reach and coiling motion. The Naga Blades shared the single edge of the samurai blade. [1] The Isthyr gained thickness and weight toward the end, the handle was built to be easily gripped by two hands, and were made to take significant impact if necessary. A secondary advantage of the isthyr's weight was that it was balanced well enough to be thrown. [2]
References
Ad blocker interference detected!
Wikia is a free-to-use site that makes money from advertising. We have a modified experience for viewers using ad blockers

Wikia is not accessible if you've made further modifications. Remove the custom ad blocker rule(s) and the page will load as expected.