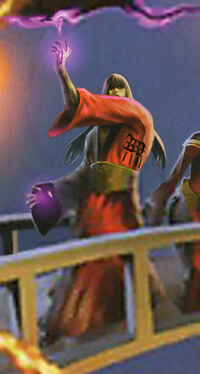 Isawa Zao was a shugenja of the Phoenix Clan.
Dark Oracle of Fire
Edit
In 1170 the Dark Oracle of Fire Chosai was very active in the Dragon border. The Phoenix reinforced their northern border to defend it from any possible incursion of Chosai's minions, the yobanjins of fire. Zao was assigned there alongside with Isawa Idomu, Shiba Ryugo, Agasha Orito, and Isawa Chihoko. The first sign of barbarians looked fleeing desperate Yobanjins. Idomu would manage to deal with them without a bloodshed. [1]
External Links
Edit
References
Ad blocker interference detected!
Wikia is a free-to-use site that makes money from advertising. We have a modified experience for viewers using ad blockers

Wikia is not accessible if you've made further modifications. Remove the custom ad blocker rule(s) and the page will load as expected.