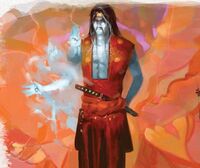 Isawa Washichi was a shugenja of the Phoenix Clan.
Dragon village
Edit
Wasichi visited every week a Dragon village filled with the children of ashigaru killed during many wars. He would come and play with the children, to raise their spirits and showed them the joys of the world. He came through wars, fires, famine, and came to help even when a mountain erupted in fire. The villagers were perfect strangers, but his kindness and generosity changed the lives of dozens of children forever, including Togashi Miyoko, who grew up with a cheery soul. These children considered Wasichi a true hero. [1]
External Links
Edit
References
Ad blocker interference detected!
Wikia is a free-to-use site that makes money from advertising. We have a modified experience for viewers using ad blockers

Wikia is not accessible if you've made further modifications. Remove the custom ad blocker rule(s) and the page will load as expected.