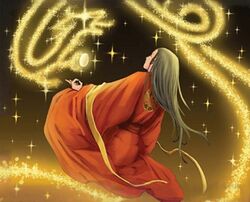 Shiba Tomohiro was adopted by the Isawa family as Isawa Tomohiro. She was an air and void shugenja, alchemist, and Ishiken of the Phoenix Clan.
Tomohiro was born into a Shiba ji-samurai family. When her shugenja talents were discovered, the Isawa adopted Tomohiro into their family. She missed her birth family at first, but as her talents matured she realized that in the void there was no distance between them. [1]
In the Aoijiroi province Tomohiro was sensei to Jiro, a gifted shugenja who in 1199 through a test of Mitomeru-Ensō was found to be the reincarnation of Isawa Sogaku, and elevated to Master of Void as Isawa Kimi's successor, at the age of thirteen years old. [2]
External Links
Edit
References
Ad blocker interference detected!
Wikia is a free-to-use site that makes money from advertising. We have a modified experience for viewers using ad blockers

Wikia is not accessible if you've made further modifications. Remove the custom ad blocker rule(s) and the page will load as expected.