Isawa Tetsuya was an Elemental Master of the Phoenix Clan. [1] [2]
Famine and migration
Edit
The Dragon of Fire took residence in the mountains of the Great Climb, forcing the Kitsuki and Mirumoto to leave their homes and migrated to Ki-Rin's Shrine, [3] and Kanawa Taki. [4] The lands were still covered by ashes when the War of Spirits began. [5]The Phoenix Clan offered their protection, but the Dragon took the lands for their own, which enraged Tatsuya. [1]
Tamori Shaitung
Edit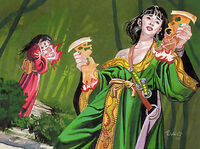 Tetsuya hatred for the Dragon Clan targeted young Tamori Shaitung. [2]
References