Isawa Tetsuya was an Elemental Master of the Phoenix Clan. [1] [2]
Famine and migration
Edit
The Dragon of Fire took residence in the mountains of the Great Climb, forcing the Kitsuki and Mirumoto to leave their homes and migrated to Ki-Rin's Shrine, [3] and Kanawa Taki. [4] The Phoenix Clan offered their protection, but the Dragon took the lands for their own, which enraged Tatsuya. [1] Isawa Tetsuya's angry reaction to an impassioned Dragon remark spurred the two clans into war without real cause. [5]The lands were still covered by ashes when the Dragon-Phoenix War began. [6]
Tamori Shaitung
Edit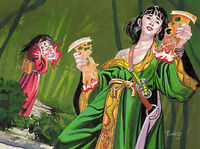 Tetsuya hatred for the Dragon Clan targeted young Tamori Shaitung. [2]
References
Ad blocker interference detected!
Wikia is a free-to-use site that makes money from advertising. We have a modified experience for viewers using ad blockers

Wikia is not accessible if you've made further modifications. Remove the custom ad blocker rule(s) and the page will load as expected.