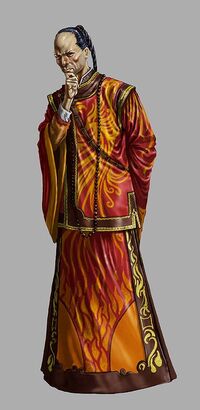 Isawa Tenkawa, the Scholar, was a Fire shugenja of the Phoenix Clan.
Princess' Advisor
Edit
Tenkawa was the spiritual advisor of Iweko I's daughter, Iweko Miaka. He was a tall, lean man with a narrow face and a tendency to look down on all those who were not gifted with the power of the kami. When the princess came to age, prominent samurai from every clan and faction set out to court her. Tenkawa was determined that Miaka should marry a husband of suitable spiritual purity. [1] After she married, Tenkawa offered to remain as her servant. [2]
External Links
Edit
References
Ad blocker interference detected!
Wikia is a free-to-use site that makes money from advertising. We have a modified experience for viewers using ad blockers

Wikia is not accessible if you've made further modifications. Remove the custom ad blocker rule(s) and the page will load as expected.