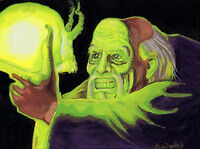 Isawa Tanayama was a shugenja of the Phoenix Clan who became corrupted, and was known as The Necromancer.
Corrupted
Edit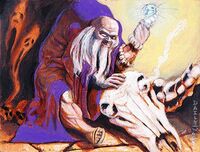 Tanayama was an impatient student in the Isawa school. Through a series of compelling dreams, he was led to the path of corruption and maho by the Elemental Master Isawa Iku. [1]
Necromancer
Edit
For a long time he was simply known as The Necromancer, until he was later revealed to have been Tanayama. [2] He was a Bloodspeaker member of the True Sons of Isawa cell. [3]
Second Day of the Thunder
Edit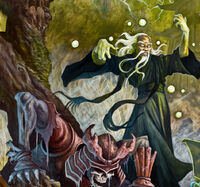 The Necromancer led the Yogo Junzo's reinforcements to the Imperial Palace. He killed the Qamar just before Shiba Tsukune defeated the dark shugenja. [4]
External Links
Edit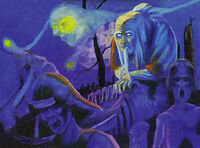 References
Ad blocker interference detected!
Wikia is a free-to-use site that makes money from advertising. We have a modified experience for viewers using ad blockers

Wikia is not accessible if you've made further modifications. Remove the custom ad blocker rule(s) and the page will load as expected.