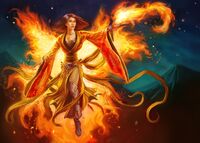 Isawa Takino was a Fire shugenja of the Phoenix Clan.
Takino was a young shugenja that heared the whispers of the Fire spirits in her heart. She aspired to be a duelist and hope to show her bonds with the Fire that drove the soul of a great duelist. [citation needed]
Takino with the tears of the pain and the fires death around her that would tempore her into the best steel. She used skills to aid the aflected and her fire burnt the Lost in a hope to see a future. [citation needed]
She was a friend of Agasha Kusadao. [1]
External Links
Edit
References