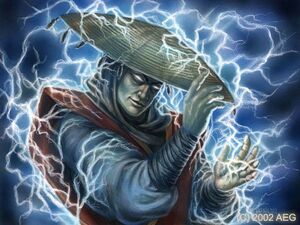 During the Thousand Years of Darkness, an alternate timeline in which Fu Leng was victorious on the Second Day of Thunder, Shiba Tsukune, possibly the last of the Shiba family, was searching for Isawa's Last Wish. She wanted to use it to bring her love Isawa Tadaka back to life, Tadaka had fallen during the fight against Fu Leng. The wish had sensed the other realms, including Tengoku, and had reach out to them but had never tried to bring anything back. The Wish brought Tadaka's spirit back and bonded with it, at last completing the Wish and becoming Tadaka's Last Wish. [1]
References
Ad blocker interference detected!
Wikia is a free-to-use site that makes money from advertising. We have a modified experience for viewers using ad blockers

Wikia is not accessible if you've made further modifications. Remove the custom ad blocker rule(s) and the page will load as expected.