Isawa Suma
Talk

0
21,391pages on
this wiki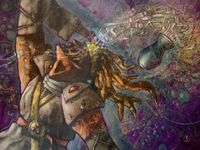 Isawa Suma was a Shugenja of the Phoenix Clan.
Training
Edit
Suma was a very skilled Void shugenja that used his own chi to copy a spell that he had that normally destroyed the bamboo scroll. [citation needed]
Scorpion Coup
Edit
Suma was part of a unit led by Shiba Tsukune who left the Ekohikei the first day of the Scorpion Coup. In the second day they were met by the Unicorn forces of Shinjo Yokatsu who wished to quickly test the Scorpion defenses. The combined Unicorn-Phoenix force attacked the Outer Northern Wall. The general Bayushi Togai led a Scorpion's Strike platoon, alongside with Bayushi Hisa and his Black Cabal, and Bayushi Tangen with his Bayushi Ambushers, against Shinjo Tashima and his Shinjo's Thunder, Shinjo Mokatsu with his Striders, Shiba Shingo and his Water Elementals, and Isawa Suma with his yojimbo. An entire Shinjo's Thunder squad managed to past the defender, entering into the city with no way back out. [1]
Eternal Links
Edit
References
↑ Otosan Uchi: The Scorpion's Sting, p. 58